Headlights frequently become yellow over time due to UV-induced deterioration and exposure to other factors. This can be avoided by applying paint protection film to the headlights. PPF installation prices are typically not low. Before spending any money, you should consider whether installing PPF in your headlights is a wise investment. This Ceramic Pro New River Valley article will go over further information about installing paint protection film (PPF) on your headlights and address that issue.
What are the advantages of adding a paint protection film (PPF) to your headlights?
The headlight lens can deteriorate due to a variety of factors. The first offender is frequently UV rays. Then comes weather, like snow, rain, and salt from the roads. Your headlights' quality can also be harmed by trash, bugs, sand, and dirt. Your headlights should be kept sharp and vibrant for as long as possible with PPF on them. These films frequently have self-healing properties. This is an excellent feature, if they get scratched, they will quickly recover and continue to shield the headlights. Additionally, choosing choices with a manufacturer's warranty is a good idea. You may rest easy knowing that the warranty covers your headlights for a very long period.
Is orange peel visible on the headlights after applying PPF?
You must understand as much as you can about the product before investing money in PPF installation on headlights. However, there is no orange peel when headlights are added. The paint's protective film can go unnoticed if you're not paying attention. It also depends on the installation technicians if PPF could have generated orange peel. An orange peel look may result from improper PPF installation.
Will PPF stop the yellowing of headlights?
The least attractive thing to have on a car is yellow headlights. In reality, they make the vehicle look less appealing.
The front of the car has headlights. They serve as the car's eyes. Your vehicle will appear old if they fog up or turn yellow.
The great news is that paint protection film can stop headlights from turning yellow. Please be aware that PPF prevents hazing. Hazing is not reversed or fixed. Before applying a protective film, you must repair any already-yellowing headlights.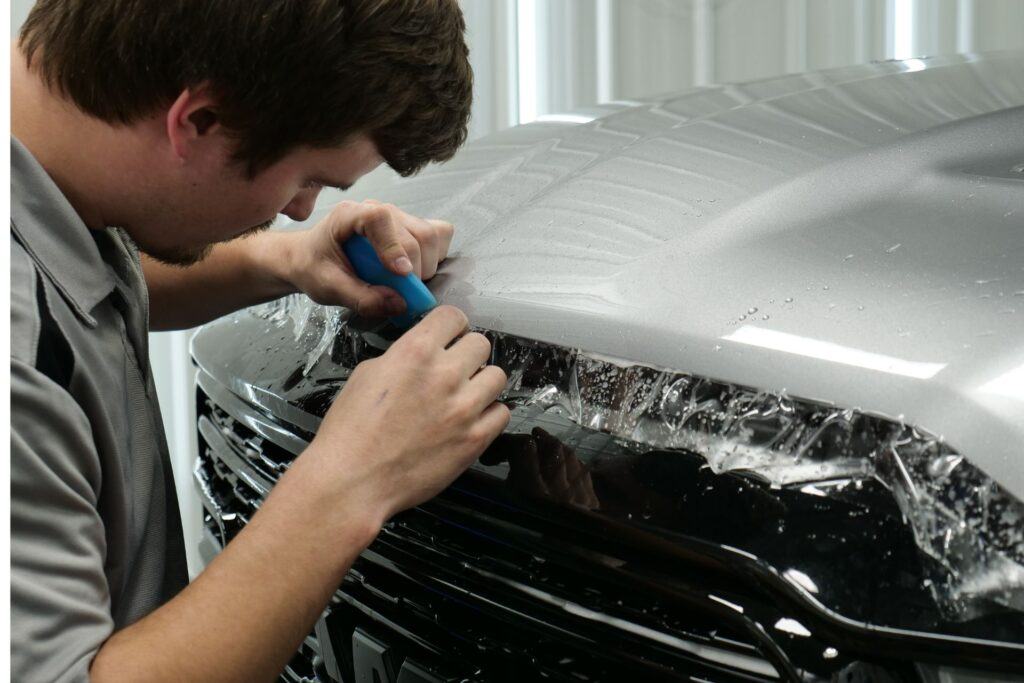 Is it worth adding PPF to headlights?
You have discovered a tremendous amount of information about PPF and what it can do for your headlights. So, is PPF a worthwhile investment? According to professionals, it makes sense to spend money on paint protection film for the headlights. The headlights on your car are among its most essential components. Headlights are in charge of your car's cosmetics, making it easier to see at night, in dense fog, or during heavy rain. You won't be able to see well at night if your headlights are yellow or foggy, and that is very dangerous. Second, old-looking headlights reduce the value of your car and make it harder to sell. PPF will mitigate the impacts of UV deterioration and road debris. 
Where should you get professional installers to apply headlight protection film?
Customers at Ceramic Pro New River Valley are familiar with our expert PPF installation on headlights amongst other parts. We use high quality products, backed by warranties. With our efforts, we are sure to offer your car a fantastic look. +15403157362 is the number to contact us to schedule an appointment. You can also visit us at 3025 N Franklin St, Christiansburg, VA 24073.