Getting paint protection film for your car is a wise investment if you want to shield it from the potentially detrimental impacts of the surrounding environment. When stains aren't removed, what effect does it have on the protective layer of the car's paint? What are some practical methods for removing stains from paint protection film? Let's find out the answers to these questions, and more, together with Ceramic Pro New River Valley in Christiansburg, Virginia.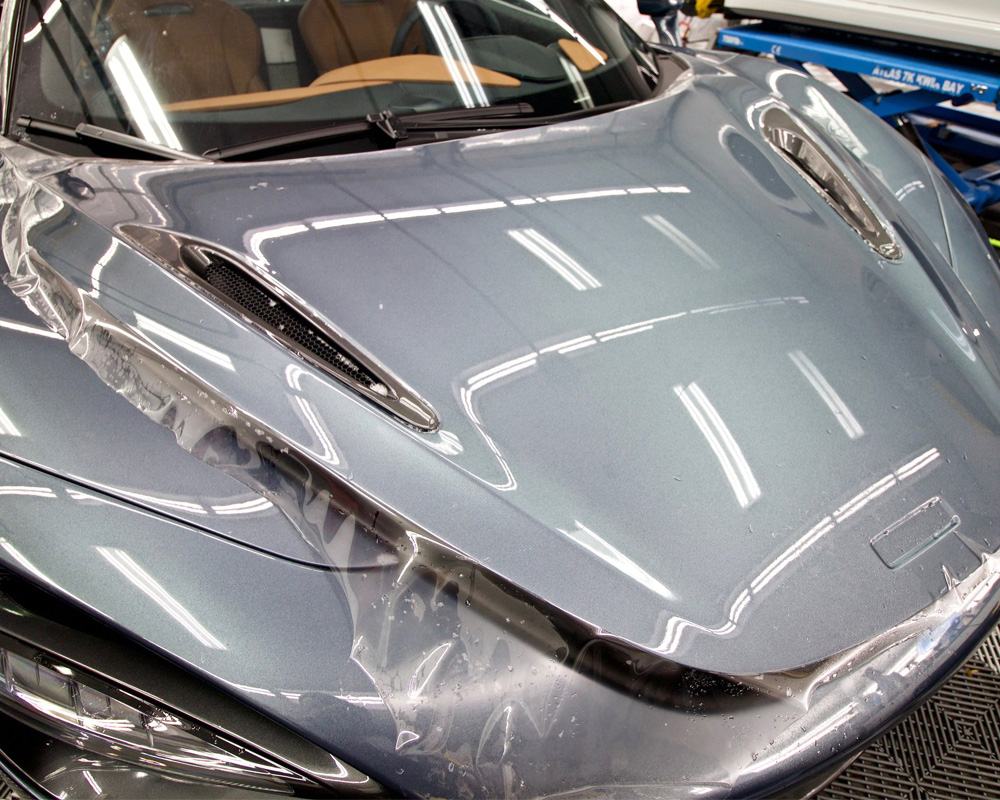 What happens if you don't remove stains?
If stains are not cleaned, paint protection film (PPF) on the automobile will become yellow over time. When older film types are exposed to intense UV radiation, they deteriorate and become yellow, which is a common flaw. In today's products, you won't find this design defect everywhere. The perfect transparency of current urethane films is maintained throughout their service lifetimes.
How long does the life of paint protective film typically last?
Paint protection film that has been properly developed and installed should have a guarantee that lasts between five and ten years. Nevertheless, PPF's durability is dependent on several different factors.
Preparation 
The condition of the surface before the paint protection film is applied significantly affects the amount of time the film can protect an automobile. If the surface being adhered to is spotless, scratch-free, and devoid of impurities, the glue will stick more efficiently and result in a more secure bond.
Process 
A more specific method to extend the lifespan of the paint protection film is to have a certified paint protection film installer carry out the whole installation process. The components, resources, and supplies they use are equally significant.
Environmental factors
The surface that PPF is applied to will be protected from harmful environmental factors, including ultraviolet (UV) radiation, acid rain, bird droppings, and other elements of the natural world. Nevertheless, an excessive quantity of such contaminants will have negative consequences on the protective coating.
Methods for washing paint protection film.
Here are some valuable tips for washing your paint protection film to maintain it's protective qualities for longer:
After the film has had sufficient time to cure, the vehicle may be cleaned (use the two-bucket wash method and a microfiber wash mitt). When using a pressure washer, ensure that the spray lance is kept at a distance of at least three feet from the film's surface, especially the edges. Only use shampoo formulas with neutral PH levels to prevent chemical damage.

Bug splatter, pollutants, tree sap, and bird droppings should be cleaned as soon as possible since the acids in these substances may etch the self-healing layer, and the ambient temperature of the vehicle may speed up the process. To remove bug splatter, use high-pressure water from a distance of three feet. To remove bird droppings, pour warm water on them, wait one minute for them to soften, and then remove them with a cloth made of microfiber.

Certain restrictions may apply to the film depending on how often you wash or wax your vehicle. Using polishes that include abrasives, petroleum, or other solvents is not recommended. Solvents will break down the adhesive and cause damage to the layer of the film responsible for self-healing in the afflicted region. Haze may be produced by abrasive or resin-based compounds which is not a desirable appearance for your car.

PPF has the potential to fix itself, any scratches or swirls that appear on the surface of the film will be healed. To hasten the process of the top layer returning to its initial state, warm water should be poured over the necessary area.
Paint Protection Film is the most effective method of vehicle protection! Ceramic Pro New River Valley, which is located in Christiansburg, Virginia provides top-class paint protection services using only industry-leading products. If you're looking for the ultimate form of long-term protection for your vehicle, PPF is just what you need! Come by our location at 3025 North Franklin Street in Christiansburg, Virginia, or call us at 540-315-7362. Book your appointment today!