The paint on your car will last longer and look better with a ceramic coating. Ceramic coatings are impervious to harmful elements, including UV radiation, acid rain, bird droppings, and insect splatters. Ceramic coatings provide a physical layer of protection over the paint, a barrier against the elements, keeping dirt and filth from clinging to the surface. The durability and lifespan of ceramic coatings is one of its most notable advantages; even the most basic and inexpensive kinds may last for a minimum of a year.
But suppose you decide that you want to have the ceramic coating removed. What then? In this article, the Ceramic Pro New River Valley experts will explain how to remove the coating from your car.
Why should you remove a ceramic coating?
Poor ceramic coating installation 
Effective application of a ceramic coating is essential, if it is to provide the maximum level of protection for your vehicle. If the surface of your car is not prepared properly, the ceramic coating will not adhere to the paint effectively, resulting in poor performance and a lower level of protection. In cases where the coating has not been applied using the correct procedures, it is often wise to completely remove the coating and apply a fresh one. 
Failed ceramic coating 
Like most things in life, ceramic coatings do have a limited lifespan, albeit of many years. If the shine on your automobile has begun to fade and the surfaces are no longer smooth and slick, it may be time to consider removing the coating to get a new one. 
If you can no longer see the water beading up, if all surfaces are moist and you notice a greater quantity of filth and grime beginning to accumulate on the body, it may be a clue that your ceramic coating is no longer doing its job.
Deteriorated Condition
Ceramic coatings are vulnerable to scuffs and scratches, much like your car's paint. They can withstand chemical assaults, ultraviolet light, and water, but mechanical wear and tear are still a problem. 
Damage to your vehicle's body, paint dings, scratches, dents, or paint transfers, may need professional repair and paint correction. It is necessary to remove the ceramic coating in such circumstances and then reapply it once the body has been repaired.
How to remove the ceramic coating? 
There are several methods for removing ceramic from your automobile. These are the two processes used most often for removing ceramic while causing the least harm to the original paint. Many skilled detailers make extensive use of these methods.
Make use of specialized chemicals.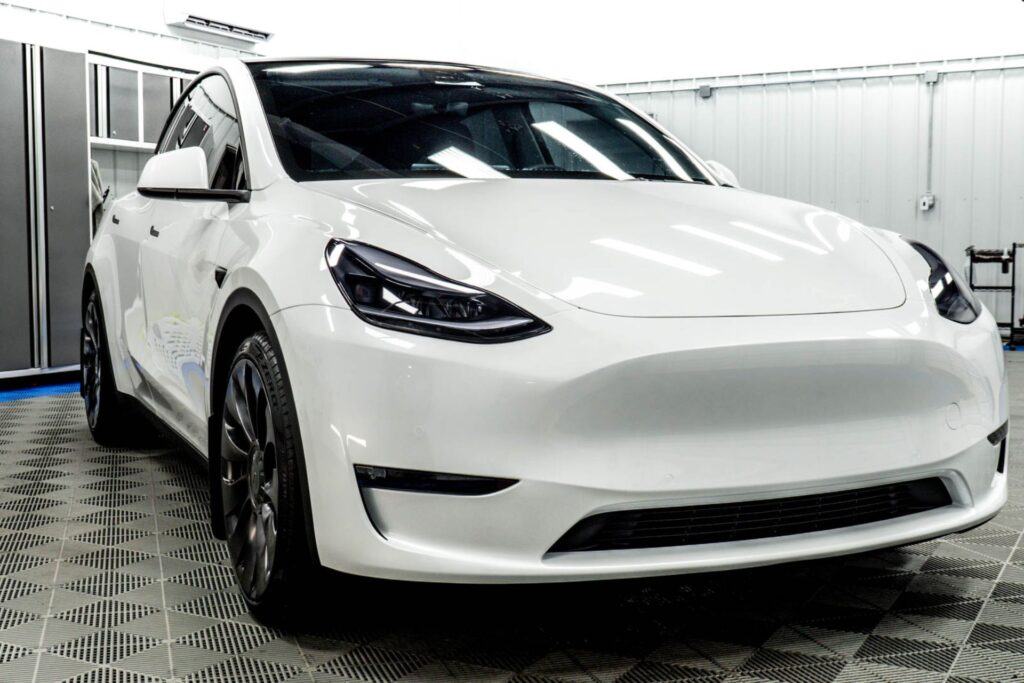 Ceramic coatings are impervious to a large variety of chemical substances. It is necessary to employ a chemical stripper to dissolve the connection between the coating and the surface to which it is applied. Chemical strippers can remove even the most resilient coatings since they are often derived from powerful acids or bases. However, when put to use, they are capable of causing damage. As a consequence, many car owners find it more convenient to take their vehicles to auto detailing shops, where professionals have received the appropriate education and training to remove ceramic coatings by using chemicals.
Polishing
The ideal method to remove a ceramic coating, according to the vast majority of experienced detailers, is to use an orbital polisher in conjunction with a polishing compound. The polishing technique is by far the most straightforward way because of its ability to 'cut' through the resistive coating until the clear coating is attained. It does, however, need an understanding of polishing and the ability to discern when you've cut through the ceramic coating – but not too far into the transparent layer.
Ceramic Pro New River Valley is proud to provide our customers with the finest services in detailing and ceramic coating application. Ceramic Pro New River Valley can be found in Christiansburg, Virginia, at 3025 North Franklin Street. Don't hesitate to contact us at this number for more information: (540)-315-7362. Book your appointment today!