The best option for paint protection, which is paint protection film (also known as clear bra), also referred to as PPF. However, are you aware of the specific benefits of paint protection film for your vehicle? Does the use of PPF protect against rock chips? How long does Paint protection film last? In this article, Ceramic Pro New River Valley will give you the answers to these questions.
Why Should you consider applying paint protection film (PPF) to your car?
Contains self-healing qualities.
In paint protection films, self-healing properties can be found. The film's several layers effectively cure surface-level damage to the film. A scratch-resistant urethane coating keeps it from deteriorating. When heated, the self-healing paint protection returns to its lowest energy level. Washing your automobile with warm water or leaving it out in the sun can help to repair any external damage, such as minor scartches.
Reduces the risk of fading
In addition to snow and rain, prolonged exposure to sunlight may cause fading, making the paintwork on your vehicle seem dull and uninspiring. In addition, if the car is exposed to different sunlight angles during the day, the paint may fade unevenly, requiring you to repaint it at some point. PPF protects against fading because of its distinctive chemical properties, which allow it to inhibit the effects of UV light.
The goal is to prevent chemical reactions.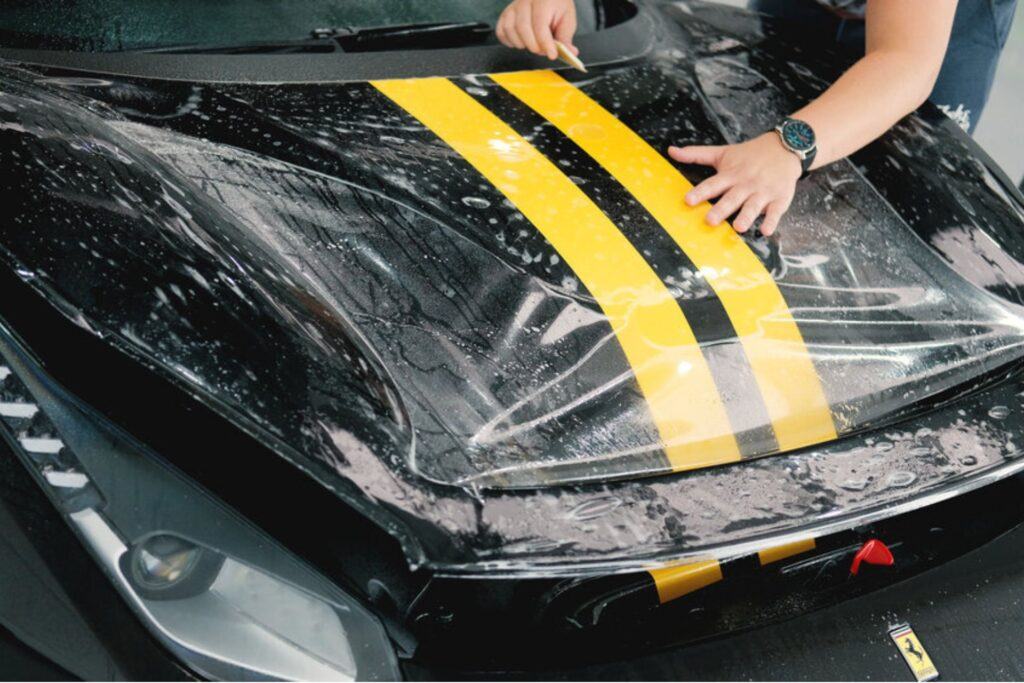 Snow and ice are removed from highways using sand and salt. Because of their abrasive nature, the chemicals may damage your car's paint and other surfaces. They ultimately chip away at the surface, allowing rust to develop. In addition, acidic bird droppings and acid rain do not degrade it. Because of this, PPF shields the vehicle from dangerous toxins, and the car can keep its look for a more extended period.
Will PPF prevent rock chips?
Paint Protection Film, which has a high resistance to impact, will protect your paint from chips and scratches produced by pebbles and other road debris. This is the case if the film is applied correctly. Elastomeric polymers, which can return to their original form after being stretched or twisted, are used to make the top layer of a high-quality film.
How long does PPF last?
The actual lifetime of PPF is between 5 and 7 years. On the other hand, this may change quite a bit depending on how the vehicle is used, how often it is maintained, and how much wear and tear it undergoes. The self-healing capabilities will deteriorate as time passes. This is to be expected as a result of regular use and wear and tear.
PPF at Ceramic Pro New River Valley in Christiansburg, VA
Paint protection film (PPF) is a fantastic method. A thick, flexible film is applied on your car's paint to guard against rock chips and scratches. We provide a variety of choices, including covering the front end of your car, the whole vehicle, or anyplace else!
Your vehicle will have the best possible defense against dings, scrapes, and other forms of wear and tear caused by the environment thanks to our PPF. Because we use only the highest quality supplies and the most up-to-date techniques throughout the installation procedure, we can ensure that your car will continue to look like a brand-new vehicle for many years.
Visit our website https://ceramicpronrv.com/ or call Ceramic Pro New River Valley at +15403157362 to arrange an appointment to install Paint protection film. Also, you can visit our business at 3025 N. Franklin St, Christiansburg, VA 24073.